Journal /
About journal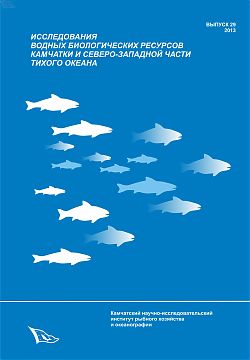 Scientific and practical reviewed journal
"The researches of the aquatic biological resources of Kamchatka and the North-West Part of the Pacific Ocean"
Since 1990 journal publishes research articles to provide Russian and foreign scientists, instructors, experts, post-graduate students and students new research data obtained from investigations in the following areas of science: ichthyology, ecology, trophology, commercial fishery, physiology, hydrobiology, parasitology, hydrology, water chemistry and genetics.
The journal considers questions related to the structure of communities, differentiation of populations, reproduction and number dynamics of hydrobionts. This peer-reviewed journal serves for sharing new data in ichthyology, ecology, trophic ecology, commercial fishing, physiology, hydrobiology, parasitology, hydrology, hydrochemistry and genetics among Russian and foreign auditory of scientists, educators, professionals and students. The articles published deal with structural and functional characterization of hydrobiont complexes, population differentiation, reproduction and population dynamics of aquatic organisms, etc. The objects of the researches are marine, anadromous and freshwater fish species, commercial invertebrates, marine mammals, their habitats and environment conditions, as well as practice of commercial, sport and amateur fishing, methodical and practical aspects of fisheries.
ISSN 2072-8212 (print)
Periodicity of the edition 4 times per year
Printed edition registration certificate
Address:
683000, Russian Federation, Petropavlovsk-Kamchatsky,
Naberedzhnaya str., 18.
Editorial office «The researches of the aquatic biological resources of Kamchatka and the North-West Part of the Pacific Ocean»
Tel: (4152) 41-27-01
E-mail: pressa@kamniro.ru